Hi friends! Here is one more article for SEO lovers about how to index your blog post within 24 hours.
Now a days every one having blogs, professional websites for promoting their products and brand name. Once you build trust from your audience you will definitely rocks!!!!
Many companies added blogs in their website to enhance the product and features to the audience. Having a product or service blog will help to reach more audience or create more exposure of your product or service to your customers.
Organic search traffic really matters in terms of convention rates because the people are actually looking for the product on search engines.
As we all know content is king in the id you keep blogging…if you keep doing what you like to do. Money and traffic follows you.
Improving search engine ranking positions (SERP's) is a quite difficult task. But there is a way to improve your blog ranking i.e indexing.
Do you think is it possible to rank your blog in next 24 hours?-Yes it is possible.
Here is the live example from Neal Patel blog which is ranked within 24 hours of time.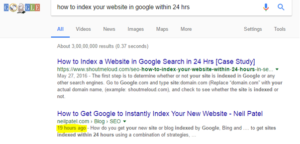 Organic search traffic really matters in the digital world because almost 65-70 per cent of traffic comes from the organic, 5-10 % from the social media and 20-30% from the all other ways.
First step is verify, your blog or site indexed by Google or any other search engines. Go to Google.com and type site:domain.com (replace "domain.com" with your actual domain name, (example: techedge.in))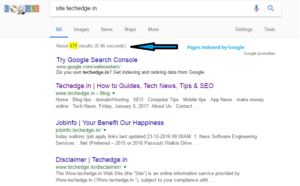 If you found no page is indexed, try these tips to index and improve crawl rate of the website.
Here is the statistics from Moz about search traffics from different search engines on an average.
There are two ways to index your blog on Google. First one is natural way no need to do anything but it takes good amount of time to index. Second way is what I love to do my website try 20% of effort after writing which bring more 80% of traffic from the search engines.
Giving more time and energy to put towards your content conversion rate, improving social signals.
I think you are waiting for the information, how I can rank my site?  Reed these simple tips which helps your blog index as quickly as possible.
See more: Tips to improve crawl rate of your website.
1). Understand how Search engines works:
Before going to rank your website.  Let's have a look on how these search engines works.
Search engines have two major functions: crawling and building an index, and providing search users with a ranked list of the websites they've determined are the most relevant.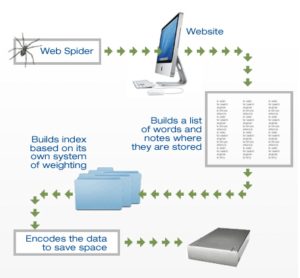 Links allow the search engines' automated robots, called "crawlers" or "spiders," to reach the many billions of interconnected documents on the web.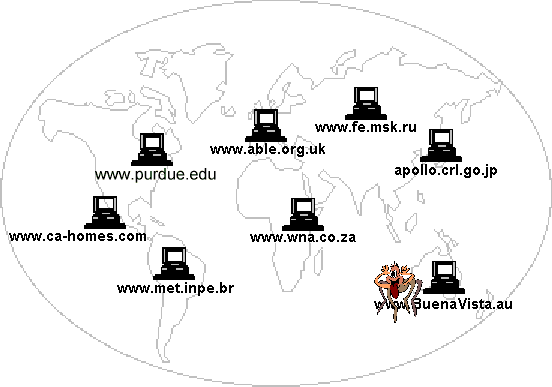 Once the engines find these pages and store selected pieces in massive databases, to be recalled later when needed for a search query. To accomplish the monumental task of holding billions of pages that can be accessed in a fraction of a second, the search engine companies have constructed datacentres all over the world.
Search engines are answer machines. When a person performs an online search, the search engine scours its collection of written text of billions of documents and does two things: first, it returns only those results that are relevant or useful to the searcher's query; second, it ranks those results according to the popularity of the websites serving the information. It is both relevance and popularity that the process of SEO is meant to influence.
2). Create a Sitemap: 
Sitemap is an XML document having list of pages on your website which helpful search engines to crawl your site easily. It tells search engines any new pages added on your blog or not and how often your blog post updated and added new content to your website. If you are using WordPress you have some free plugins like Google XML sitemaps and SEO by Yoast plugin to do this work creating and submitting the site map for the search engines. otherwise use Sitemap generators and put sitemap file in your root folder of the website.
3). Submit sitemap to the Google webmasters tools:
Once if you submit your sitemap to the search engines, the search engines check your website on regular intervals of time. If you haven't submitted. Then try to submit your site map to Google webmaster tools and Bing webmaster tools as early as possible. This will helps your blog index as fast as possible.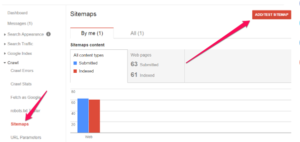 Add your new site to Webmaster Tools, then go to Optimization > Sitemaps and add the link to your website's sitemap to Webmaster Tools to notify Google about it and the pages you have already published
3). Submit website URL to search engines:
Major search engines like Google allows you to submit new bog post/URL to submit to search engines. Submit your website URL to Google by signing into your Google Account and going to the Submit URL option in Webmaster Tools.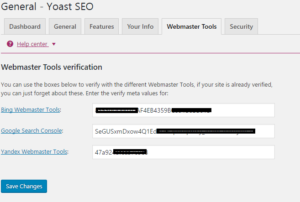 For extra credit, submit your site to Bing. You can use the anonymous tool to submit URL's below the Webmaster Tools Sign In – this will also submit it to Yahoo.
4). Don't forget to create and update social profile: 
This will helps you create brand value. Majority of crawlers and search engine bots are catch your blog post through the incoming and outgoing links from your blog post. The only way to get quick links to your site is create a social profile and publish your blog post via social profiles. This includes Facebook pages, Twitter profiles, LinkedIn and 1+ profiles.
5). Share your website/blog link :
Once you have active social profile account . Try to update your profile of page with your new content in the blog post. Even if these links from the social profile are real no-follow these links helps search engines crawlers to an alert about new content.
6). Use bookmarking sites:
Use quality bookmarking sites like Delicious, StumbleUpon and printrest.
 7). Create offline content:
Backlinks really matters in terms of search engine rankings.  Once you have a blog. Try to build backlinks I.e links from other sites in your niche. Why you need to build is to improve your blog authority for that particular niche topic. Create awesome content and try to write Guest post on other popular bogs in your network. This thinks will help you to get more quality backlinks from other sites.
8). Submit your blog to the blog directories:
Submit your blog post to the blog directories like dmoz, ping-o-matic, blogcatalog, best of the web and toprank. These are the websites which categorize blogs under many different categories. This will helps to search for your blog on them. This will helps you build even more incoming links.  If you have good amount of quality blog posts try alltop which I use to submit the blog posts on its directory like tech, blogging etc.
9). Setup your RSS feed through Google feedburner:
This is another awesome free tool owned by the Google. To access this first sign in t your Google account and submit your feed with feedburner by copying your blogs' URL into the "burn a feed" field. In addition to sitemap this will also notify Google of your new blog post.
Keep remember for what kind of information the crawling spiders are strong?
Mostly spiders look for all the information for your site. They index the most important information first.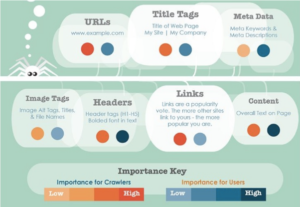 Img source: www.815seo.com
What kind of information they are looking for from your website?
URLs — the address. That's pretty important. Otherwise, you'll never be able to find the website in the first place.
Title tags — Title tags are the name of the website.
Metadata — The description of the website along with any relevant keywords.
10). Use  Robots.txt :
If you are using WordPress. Have you seen the robots.txt file in the root directory of your website in the server?  If you observer that file that is a plain text file which acts as traffic police for crawlers to crawl or index specific portion of the information from the site. Like content, media and tables etc.
When search spiders find this file on a new domain, they read the instructions in it before doing anything else. If they don't find a robots.txt file, the search bots assume that you want every page crawled and indexed.
Sites with more duplicate content are potentially a big problem for SEO. so, one solution is to use robots.txt file to instruct search engines to ignore one of them.
Conclusion: These above 10 tips help your website index quickly from Google and other search engines.
As most as content marketing strategies are changes day by day. It's very important to stay with current technique. Double check any suggested technique with your own independent research.