Hi, folks! Still, there is a way to get windows 10 upgrade for free… As all of us know officially windows 10 free upgrade is over. People must pay $119 for the home addition or $199 for the pro edition for windows 10 update. But unofficially, free copies of windows 10 freely available.
Microsoft hasn't closed the door all the way for those looking for windows 10 update for free. You can still get Windows 10 upgrade for free.
Microsoft is giving a free upgrade to the people who are using assistive technologies. The software giant has introduced a "free upgrade offer extension" for windows 7 and windows 8.1 users who use assistive technologies.
Assistive technologies mean which the tools used people having "physical or cognitive difficulties, impairments, and disabilities. Who are using features as a magnifier to better see the screen, or a narrator to read text aloud or keyboard shortcuts and on-screen keyboard "according to Microsoft.
Microsoft has not announced a decline for a free upgrade offer for users of assistive technologies, so those of you who still want windows 10 should grab freebie while it lasts.
A way you can Still get Windows 10 upgrade for free….
Microsoft on its official site announced like "Windows 10 free upgrade for customers who use assistive technologies
If you use assistive technologies, you can get a free upgrade to Windows 10 as Microsoft continues our efforts to improve the Windows 10 experience for people who use these technologies."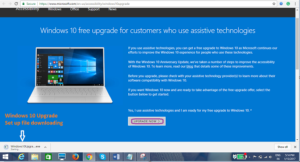 Click on the Upgrade Now button a .exe (windows 10 set up file size around 5 MB) gets downloaded.
Run that .exe file. Give the system administrator permissions. To download and install windows 10 update.

Then it will check for minimum hardware requirement in the system having windows 7 or windows 8.1 operating system for windows 10 upgrade.

It takes time to download 3 GB of the file (approx.) based on your internet speed.
Once Windows 10 starts installing, you're almost set. Depending on how new your computer is, this could take anywhere from 20 minutes to an hour or longer, but there isn't that much for you to do aside from clicking "Next" a few times.
See more: How to block websites using windows hosts file?
Note: This first step isn't mandatory, but it's a good idea: backup your computer. If you can, make sure that all of your most important files are saved outside of your PC. More than likely you aren't going to need this, but it's better to have it in the event that something goes wrong.