The new Microsoft word has an auto-save feature, but in sometimes we are unable to find the document. The word document seems to be unsaved. Here is a simple technique to find out that unsaved word documents. The document did not show up in some cases like computer shut down unexpectedly or accidentally clicked "Don't save" button while closing the document.
In these cases, we can recover those unsaved files easily with this procedure, the unsaved files are in saved automatically with the file name extension .asd. we can get back those files searching for .asd in our system.
Step by step procedure to get back unsaved word documents:
Go to windows start menu using the windows key on your keyboard.
Go to FILE EXPLORER.
Choose THIS PC in the left-hand side menu.
In the top left corner, you will get a search box. Type .asd into the search bar.
Hit enter on the keyboard.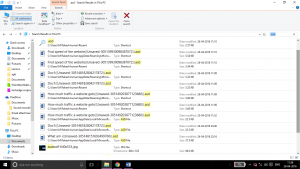 see more: How to lock folders?
      Based on the number of files in your system it will take few seconds to several minutes to fetch those unsaved files. Finally, your computer will bring up your missing files, which you are looking for in the search results. Click on the file and open with the word, save the file as you save normal word document files.