There is a simple way to find your connected Wi-Fi password if you are unable to find Wi-Fi password through system settings you can find password through simple commands from command prompt. We can find passwords of those , previously connected Wi-Fi networks to our system  only. this process is very helpful if we forgot our connected Wi-Fi password.
Learn how to find wifi password by command prompt using simple commands. If you forgot wifi password which is already connected to your system. You can get back your network password through system settings.  This technique really helpful to people who are unable to know wifi password using system settings.
Finding wifi password is a simple technique, by using this process you can also find all previously connected wifi networks to your system and also you can find all network passwords once it connected to your computer.

How to find Wi-Fi password?
Step1: open command prompt
             (type keyword cmd on run(wind+r))
You can get like this
Step2: type commands like this
Type   wmic              press enter
Type    quit              press enter
Type    netsh wlan show profiles    press enter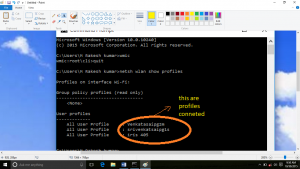 Step3: among all profiles chose the profile which Wi-Fi password you want to know.
Let I want to know password of:"venkatasaipg2m"
Type    netsh wlan show profiles venkatasaipg2m key=clear               press enter