On 10th may,2016 WhatsApp on its official blog announced, new Whatsapp desktop app. It runs natively on your desktop. This new desktop app is available for windows 8+ and Mac IO X(10.9 and later versions). this desktop app synchronized with WhatsApp on your mobile device. Similar to WhatsApp web, the WhatsApp desktop app is simply an extension of your phone.
From past few months the instant messaging WhatsApp app introducing more features after acquired by Facebook. Recently it introduces text formatting and Google document sharing.
To bring security it introduces end- to- end encryption for its mobile app. Now it going to add call back, voice mail and video mail features soon. Day to day WhatsApp app become more powerful and useful.
To download this application, visit Whatsapp for desktop download from your desktop browser. Use this application by simply opening the app and scan the QR code using WhatsApp app on your mobile phone.
Step by step procedure to use WhatsApp desktop app:
First, download WhatsApp desktop app on your system. Choose download comparability based on using system/desktop either windows 32 bit, 64 bit and mac IO X (10.9 and higher versions).
After clicking on download button a new WhatsAppsetup.exe file gets downloaded.
Run the setup file. It will ask for system administrator permissions to install that application in your system. Click on Run. The WhatsApp desktop app gets installed.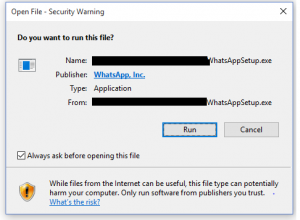 After successful installation. Open the WhatsApp desktop app. You get access to your account directly by scanning the QR code in the desktop app with your mobile WhatsApp application.
To Scan that QR code with the mobile phone. Go to Menu >> WhatsApp web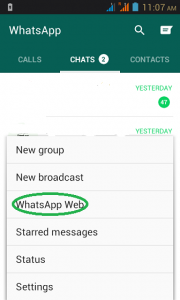 Click on "+" button and scan the QR Code on the Desktop app.
Then scan the desktop QR code with mobile, as shown below.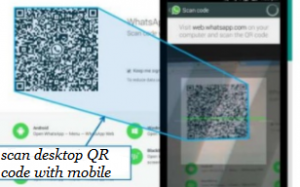 That's all your WhatsApp live on the desktop. To use WhatsApp on the desktop your mobile is connected to Wi-Fi network.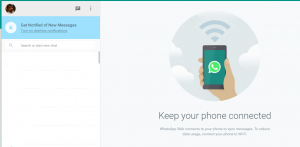 This desktop app supports desktop notifications and we can use keyboard shortcuts, which helps to faster message typing while in chatting.
You can simply chat with your friends. You can also configure settings to get notifications to the desktop. Go to menu to change settings.
Select settings in the menu to make changes in notifications.
The desktop app lets a message with friends and family while your phone stays in the pocket. This WhatsApp desktop app has limitation similar to WhatsApp web is your phone must be connected to Wi-Fi network.