Powerful SEO Techniques that boosts search rankings, Every once can easily implement.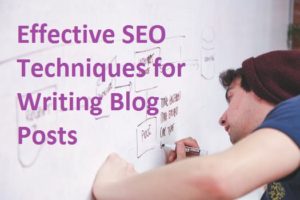 Your primary aim for maintaining a blog is to make money, and for the long term success of your blog, you need to focus on getting as many high ranking posts in the search engines as possible.
See more: 10 post formatting tips before publishing post.
To start out your blog will not have enough backlinks or page rank to help drive your posts into top ranking positions. The trick is to target keyword phrases which have little competition in the search engines. One major drawback is these keywords is they are unlikely to attract much traffic, and so you have to concentrate on writing posts which target many different keyword phrases.
The single most important search engine optimization tip to employ when you are writing a blog post is to select a primary keyword phrase and then include as many related words and phrases as possible.
See more: Have a look on google high CPC keywords.
Keyword density is not something you should concentrate on. Rather than stuffing your post with your primary keyword phrase, use words which have the same meaning (known as synonyms) and add related phrases (or secondary keyword phrases). The days of creating one blog post for each keyword phrase are long gone.
You can use the WordTracker free trial or SEMrush tool to find keywords which you have researched (i.e. they are searched for regularly, but have little competition). Once you have identified suitable keywords, use the Google Keyword tool to find related phrases which Google associates with your main keywords. Enter your main keyword into the "Keyword Variations" text box. Make sure the "Use synonyms" checkbox is checked and click "Get More Keywords".
The Google Keywords tool will then return a list of keywords it thinks are related to your main keyword. Save these in either a text format or as a .csv file which you can open using a spreadsheet (e.g. MS Excel). Go through each keyword phrase and delete those that have no relevance to the blog post you intend to write.
When you write your post include as many of these related keywords as you can, but make sure your post has a logical flow to it and your included phrases make sense. You should write for your readers first – make your post content informative and easy to read.
Include your primary keyword phrase in your post title, but make sure the post content closely matches your chosen title. You should also include your primary keyword phrase once or twice in the post content, and include the related phrases you have identified, for example, if your primary keyword phrase is "increase website traffic" and the Google Keywords tool returned these related phrases:
-improve website ranking
-top website traffic
-get website traffic
-targeted website traffic
-guaranteed website traffic
-your website traffic
Here is how you could use them in your post title:
Dramatically Increase Website Traffic and Improve Website Ranking with These Top Website Traffic Tips
In your post you would refer to all the keyword phrases once or twice and back them up with even more similar or related phrases, for example, website traffic -> website hits -> unique hits -> site traffic. Don't keep repeating the same phrase over and over in your post content.
If you have written other posts which targeted some of the related secondary phrases, link to them using the secondary keyword phrase as the link text. Linking to similarly themed posts benefits your readers because they can find more information, but it also gives your posts a slight SEO boost from the internal "in context" linking.
One very important point to remember is 30% to 40% of all search engine queries are one-time long tail search phrases which the search engines do not have any matching webpages to display. The actual results displayed will be the webpages which the search engines decide are the closest match. When writing your posts take this into account and create as many permutations as you can of the keyword phrases you are targeting. For example (this is a real example from one of my niche websites):
– Facts about whether a plant grows faster inside or outside
– Information on a plants growth rate inside and outside
– Growing plants inside vs. outside
– do plants grow faster indoors or outdoors
Pay attention to your post slug as WordPress uses this to create a file name for your post. Make sure the primary keyword phrase is near the beginning of the slug. By default, WordPress uses the post title as the post slug, but it cleans it up by removing apostrophes, quote marks, and other characters.
For example, using the title in the "increase website traffic" example, WordPress would automatically name the post slug:
Dramatically-increase-website-traffic-and-improve-website-ranking-with-these
-Top-website-traffic-tips
To write a new post slug, simply rewrite it with dashes between each word, for example:
keep-getting-traffic-to-your-old-blog-posts
Note – Make sure you change your post slug BEFORE you publish the post, and don't include non-essential words like a the, but, my, with etc. Changing your post slug after you have published it can cause problems with the posts permalinks and result in a 404 File Not Found error…..
I hope you may implement these simple and awesome SEO Techniques to your blog posts from right now……