There are lots of blogs out there with great and valuable posts hidden in their blog archives. These are posts that have been written when the blogger started the blog back in the days and I can bet you that most of these posts are usually helpful.
If you are one of those bloggers that have worked hard to create some valuable blog posts in the past but it seems those posts have been buried deep down by your recent posts, then this article is for you.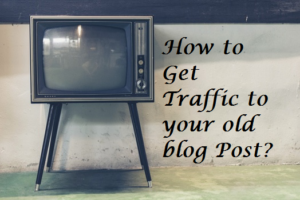 I will be sharing with you some tips you can implement straight-away to keep your old blog posts alive by getting continuous traffic to them.So, here are the sure-fire ways of getting Traffic to your Old Blog Posts
1.      Use Related Posts Plugin
A related post plugin is one of the most effective and easy way of bringing your old blog posts into limelight. Using a related post plugin on your blog is very important and this is one of those things you should never forget to add to your blog.
What is a Related Posts Plugin? Good question; a related post plugin is any plugin that helps you to "Automatically add links to your Old Blog Posts" beneath your recent blog posts.
This plugin will search for relationship between various blog posts by making use of your blog categories, tags and content keywords and displays links to the most relevant posts beneath your new posts.
There are lots of FREE related posts plugins available in the WordPress plugins depository, but the two most common and recommended are YARRP and Shareaholic. You can install any of these plugins on your blog to get the job done.
2.      Pimp Up Your Old Blog Posts
Have you ever heard of or seen the famous TV show "Pimp My Ride"? If yes, that's great. If no, let me do a brief description of what it is all about.
PIMP My Ride is a TV show that shows us how some auto [car] experts come together to reconstruct, refurbish and upgrade scrap or old vehicles. They don't just upgrade them, but they turn them into one in a kind SUPER CARS!
You can also do the same to your old blog posts, you can revisit them to rewrite their content, change the posts title, change the images, add images to ones without one, rewrite the sub-headings, SEO Optimize them and lots more.
Doing this can help your old blog posts get better rankings and more traffic from search engines. The most important thing when pimping your old blog posts is to make sure that you are adding value to them and turning them into informative and super posts by adding things that will make the posts more interesting and worth reading.
Note:  Never should you change your old blog posts permalink structure because of SEO and 404 errors that may result from doing that.
3.      Show them some Link Love
Usually, it's difficult for your readers to find your old posts and uncommon for them to dig into your blog archives, but you can make this easy for them by linking to your old posts in your new articles.
When you are writing a new blog post, have it in mind to always link to one or more of your old blog posts and do this regularly so that your old posts will get more exposure and traffic. Linking to them in your new posts does not only help them get more exposure, but it also helps your old post Search Engines Rankings which can really help the post get more traffic.
If you are looking for an automated solution [set & forget], I will recommend you use SEO Smart Links plugin for this. Just set your keywords and target URLs and the plugin handles the rest.
4.      Promote Your Old Posts on Social Media
Social media sites is now one of the top traffic sources that should not be ignored and promoting your old blog posts on social media is a sure-fire way of getting continuous traffic to your old blog posts.
Find some time to visit your old blog posts to hit the sharing buttons on such posts to share them with your followers and friends. If you are a member of some Facebook groups & Google+ groups, you can as well share your old blog posts there for more exposure and traffic.
There are quite a few tools that can help to automate this process, I have not been able to find a free tool that works for Facebook and Google Plus, but I know of a twitter tool which is the tweet old post plugin.
The Tweet old post plugin is one of my favourite plugins and what this plugin does is to simply share the Title, Link, & Content of your old blog posts to your Twitter profile as scheduled by you.
This plugin is quite effective and easy to use, I hope such plugins can be developed for other social media sites
5.      Digitalize your Old blog Post
What do I mean by digitalizing your old blog posts? What I am trying to say is that you can convert them to digital formats like slides and PDF books.
Converting your old blog posts to slide presentations and uploading them to sites like slideshare.net is a great way to re purpose your contents, get attention and traffic to your old posts. If you are making use of this technique, make sure you include a Call to Action [CTA] and Links back to the original posts in your PDFs and Slide presentations.
You can add something like "join the discussion on this topic/post at http: //your-post-link. Com", this will surely help you bring some traffic to the post.
If you are using the eBook Technique, you can easily convert your old blog posts to PDF offline or online at pdfonline.com and then upload them to file sharing sites like Scribd or 4shared.com…. To get more exposure and traffic to your posts.
Don't forget to add links to the post and CTA in your eBooks, which is the only way you can get some traffic to your old posts.
Let's call it a stop here, I have shared with you 5 techniques you can implement to get traffic you your old blog posts and I hope you have found them helpful.Over to You, What other method do you use to getting traffic to your old blog posts? Kindly share them with us in the comments.