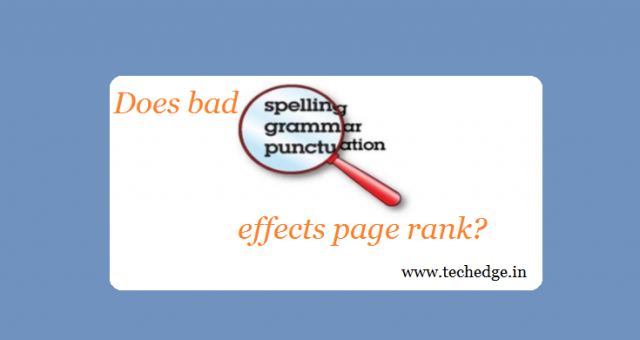 After few months of blogging, I got a doubt that "does google consider bad spelling and grammar on the content as a ranking factor?", "can it effect negatively on search engine rankings?".
until that date, I am not taking care of grammatical mistakes and miss spell words on my blog.While seriously reading my blog I found some miss spelt words and grammatical mistakes.
I do search on the google and I got the answer from Matt Cutts, who is a former head of the web spam team at google and currently working with google search quality team on search engine optimization issues.
"Google not using it as a direct signal within our search engine rankings, so it is not one among 200 different signals that we use to assess the quality of a page. But I think it would be fair to think about using it as a signal.
I would encourage people to pay attention to, maybe not necessarily for the search rankings directly, but just because it's good experience for users and users appreciate that. They'll be a little more likely to bookmark your or come back or tell their friends about you." – Matt Cutts.
read more: 
Can bad spelling and grammar matter page rank?

Good grammar in content helps to better user experience. So it is essential for long-term SEO strategy. So better to eliminate those miss spell words and grammatical mistakes in your articles. If the audience to your blog found the content is simple and worthy. They will become as some royal visitors (I mean regular visitors). More interaction with your website helps to decrease bounce rate. So it indirectly affects the page rank.
read more:
More recently, he was asked: "should I correct the grammar on comments to my WordPress blog? Should I not approve comments with poor grammar? Will approving comments with grammar issues affect my page's quality ratings?"
For this question, Matt Cutts say "you should not worry too much about the grammar in user comments as long as grammar on your page is fine."
Poorly written comments have no effect on the ability to rank. Make sure that our page content is high quality. 

Here is the solution that I found, helps to provide error free content on your blogs using a small chrome extension named Grammarly . it is very simple to add and use.
Grammarly is a writing – enhancement platform developed by Grammarly, inc. it checks for a writer's adherence to more than 250 grammar rules. It proofreads and detects plagiarism in the process and finally provides users with a list of possible errors for correction.
Add Grammarly chrome extension and sign up to Grammarly using your mail id to enable and use. that's all it will give all suggestions for the errors.
you can produce error free content by eliminating bad spelling and grammar mistakes. thank you.  Hope this article helpful. if you like this information don't forget to share.