WordPress SEO Plugins made SEO look so easy and this is one of the main reasons that WordPress is the most popular CMS. Plugins make WordPress work a lot better than it is supposed to be. Thousands of developers working round the clock to make WordPress a little more usable and effective and it's their combined effort that made WordPress what it is today.
These volunteer WordPress plugins developers creates new useful and helpful plugins and distribute them for free, that's why the WordPress has the richest plugins library than any other CMS.
Among those hundreds and thousands of WordPress plugins, WordPress SEO plugins are the most popular plugins. These WordPress SEO plugins made SEO or Search Engine Optimization easier than ever, this is another reason that WordPress is the most SEO friendly platform.
WordPress plugins enhance the ability of the core WordPress and they let you create amazing posts that search engines can easily pick and index as well. Without these SEO plugins making a site or blog SEO friendly is an enormous job and these plugins made it easy for us. For sites that has huge content base SEO is way more than they could handle, if it was not the plugins then it was a 24 hour job.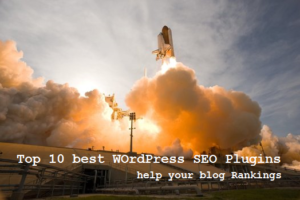 WordPress SEO plugins takes care of your page title, post title, Meta tags, generates Meta keywords, implies canonical tags, let's search engines to index contents or restricts them from indexing the content. The modern WordPress SEO plugins even submit Sitemaps, updates sitemap automatically. But that does not end there; they do a lot more things that if you were doing manually it could have consumed a big chunk of your precious time and energy as well.
Listing the 10 most popular WordPress SEO plugins was not easy for us, every day thousands of new plugins are published by the WordPress plugin developers around the world. But not all of them are popular, so actually it's not that difficult as well but the list will be helpful for someone who's using WordPress for not very long time and for the expert users as well as the list keeps changing; so keeping up should be helpful.
Here's the list of top 10 most popular WordPress SEO plugins, listed randomly and all of them has their own uniqueness and fan base.
Google XML Sitemaps
It's one of the oldest and most probably the most popular WordPress SEO plugins that automatically generates and submits an XML Sitemap once installed. The plugin helps website or blogs to be indexed better by the search engines like the Google, Yahoo and Bing.
All in One SEO Pack
All in One SEO Pack is the most popular WordPress SEO plugins that made SEO look like a child's play. The plugins have both the premium paid version and a free version. Both of the versions are highly functional and widely used by the webmasters around the world. The plugin automatically optimizes any website or blog, the interface is so easy that anyone can use it without even knowing it. Just install it and it will do the rest for you.
WordPress SEO by Yoast
WordPress SEO by Yoast is another very popular plugins and it's much more than just a plugin, it's more like combinations of plugins that are both functional and useful. There is a debate about this WordPress SEO plugin is better than the All in SEO Pack, well let the debate go on but this SEO plugin is much more advanced and way powerful than any other WordPress SEO plugin available in the market.
Broken Link Checker
Broken Link Checker is another very powerful and popular WordPress SEO plugin that automatically checks broken links on a site and informs with a notification if there is any new link that is broken. Broken links are not good for websites and search engines takes for granted if there's too many of them.
Platinum SEO Pack
Platinum SEO Pack is a very popular WordPress SEO plugin that automatically adjusts on page SEO and the plugin is a complete package to make any site or blog SEO friendly. With many other cool SEO features this is one of the most functional SEO WordPress plugins for sure.
SEO Ultimate
SEO Ultimate is another similarly popular WordPress SEO plugin that can take care of many SEO functionalities. This is a complete plugin and has a very easy user friendly interface.
Nofollow for external link
Nofollow for external link WordPress SEO plugin turns all the followed external links to "nofollow" external links and add "target=_blank" to all the external links on your site. This helps to protect the Page Rank link juice to go away from the site, for good.
HeadSpace2 SEO
HeadSpace2 SEO is a nice and easy SEO WordPress plugin that can take care of all the Meta tasks. This plugin is very powerful and it can manage Meta data pretty well. There is some other cool functionality of this plugin that will make SEO a lot easier.
SEO Rank Reporter
Everyone needs to track their search engine rankings and doing it manually is a real tough task. The SEO Rank Reporter tracks of your chosen keyword in Google with a 3 day interval automatically. That's really smart and useful way to track website search rankings.
NextScripts
NextScripts: Social Networks Auto-Poster can post for sure, now that social signal is getting more preference from the search engine giant Google; social sharing is becoming more important in SEO. As there are more social networks than you can handle, sharing posts to every platform like Facebook, twitter, Pinterest and other popular social sites are really difficult for webmasters. Thanks to this plugin, you don't have to do it anymore; this will do it for you automatically.
We hope that you find these WordPress SEO plugins useful for your websites as well. Let us know what you think about this collection.