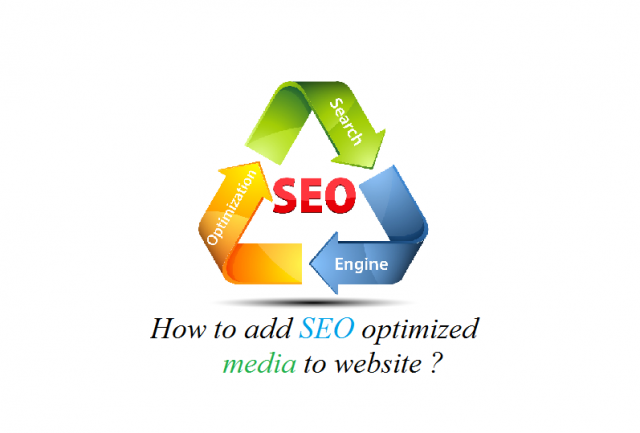 Adding SEO optimized media to website will helps to get page rank better. coming to media, related images and videos are major part to optimize. placing images and content related videos to your blog will increase time spend on your blog. Simply images SEO optimization is one of the major part of the on-page SEO optimization. There is an English idiom "A picture is worth a thousand words". 
How to Add SEO optimized media to website?
The main factors to optimize images are alt tag, title tag, image size, image name and image linking. Proper using of optimal images may clearly transfer your message to the audience. In addition to this images can be a good source of traffic from google images search and other image search engines. 
see more: Google ranking factors which helps  to improve page rank.
Best SEO image optimization techniques:
Image relevance:
Make sure the images in your page should relevant to your content. The image relevancy is important signal to users to stick to your page more time. The images you use, does not cause any effect to search engine. But if it is relevant it will decrease the bounce rate of the page.
Image name:
Page rank of webpage depends on only relative keywords present. Hence whenever you use image names try use SEO friendly focus keywords in your image name. google considers images URL's also for search engine rankings. So try to use proper name while uploading images to WordPress website.
Dose google consider URLs of an image?
Suppose you are writing an article about "Best cars in the world". Then try to use "best cars in the world.jpg" or "amazing cars from bmw.jpg" like that instead of "DC97494.jpg" or "DC0023137.jpg" as image name. this will definitely improve page rank. Use file extinctions like .jpg, .png, .gif, .bmp.
Alt tag:
The alternate tag is most probably the important image optimization factor. even if the image name not optimizes of SEO, try to use alt tag must be targeting relevance keywords. Mostly search engines take alternate tag as relevance signal, whether the image relevant to the content or not. Because most of the search engines are text-based, hence they can understand only text, so try to optimize in this aspect.
Dose image optimized website gain Page rank?
Image size & quality:
Page rank also depends on time of loading according to new panda update, so try to choose best hosting service with maximum up time. For fast loading the image, size should be small. If the quality of the image is not good, the visitor to your blog may not impressed. Try to re-size the image to optimum quality as well as size. If webpage loading takes more time the audience may click away from your blog.it may cause more bounce rate.
see more: Best tips to write SEO friendly URL structure?
Image linking and title tag:
Using images are better eye-caching so they are perfect for linking. But proper image linking methods can offer better results. Always try to use relevant anchor text whenever linking your images. This is the best way to get link back to your site from guest posting website. Try to use title tags whenever linking your images. Use relevant keyword and SEO friendly description to your images will improves page rank.
Watermarking images:
Watermarking images is an important part and can drive good amount of traffic to your blog. People will easily identify you, if someone using your images. Using water mark is also one type of brand promoting. This is not comes under on-page optimization, but it will helpful to the people to identify about your blog easily in image search results.
Number of images in page:
This is also one crucial factor for on page optimization. Using more number of images will increase the loading time, which will negatively impact for page rank. Use optimum number of images. Using cache plugin will improve better user experience. if your website is image based on try to use CDN along with best cache plugin, which helps to reduce server load. these are best SEO optimized media tips especially image optimization tips.
For better understanding image optimization, it is better to know how google image search works.
Related videos:
Coming to SEO optimized media content, Videos can be extremely powerful form of content and make a significant contribution to your overall SEO strategy. Using appropriate videos will definitely positive impact to your website. Although a lot of brands are incorporating video content into their overall online marketing strategies. This simple and straight way to convey your message to users. Rather than uploading videos directly to your website use YouTube to host and embed your videos. YouTube is an easy way to use free space to host videos. 
see more: How to add SEO friendly page title?
            Embed high video quality, good audio quality videos on your website will increase average session time. if you include video on your website, it is better to submit XML sitemap for that video will make it easier for the search engines. Creating a video sitemap is simple and anyone can do using any number of video sitemap generators and submit it to Google webmaster tools.
In this article i covered most of SEO optimized media tips. if you have more please share as a comment below it will helps to others.