In this article, we explained tips to increase Google AdSense earnings. Blogging culture is increasing day by day from past few years. Some of the passionate bloggers choose blogging as their profession and earning money from their website through ads and affiliate marketing.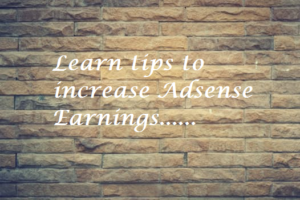 see more:
Tips to increase Google AdSense earnings:
These are some tips to increase AdSense earnings. First, choose best ad size to your website, among all ad units 336×280 large rectangles, 300×250 medium rectangle and 160×600 wide skyscrapers are the most effective ad sizes . Most of the advertisers are prefer to advertise in this three ad sizes among all ad units. 
Hence, these ad units are ultimately given high CPC when compared with other ad units. The visual appearance of your web pages is one of the important points to be kept in mind while placing the ad units. If your web page has very little space for ads, the best solution for your blog/website is link ad unit format.
 If your ads appearance is similar to your website, there are better chances to get more clicks on the ads. Which effects to increase AdSense earnings, so edit your ads if you have a light background on your website, it is better to use a similar light background for that AdSense unit. The colour of text and hover effect of your ad unit text is similar to your website.
If we use both text and display type ad units on our website. Then there is more chance to get click on an advertisement by a website visitor.
If you want to rank well in search engines try to use low competition words. Use google AdWords keyword planner which helps greatly to find low competition keywords. Writing good content using low competition words help to rank better in search engines that will give more traffic, then you can get more chances to get clicks on your ads.
Try to post blog posts regularly, which leads to increase the number of visitors to your blog. If you have useful and fresh content on your blog, the bounce rate of your blog definitely decreases hence average time spent on your blog increases. Which helps to increase your cost per impressions.
see more:
Ad placement on your site also really effects, audience readability. Choose best practices on your websites for placements of ads and read AdSense placement policies to get the better idea for placement. Whether you can place ads in header, footer, sidebar or within the body of the post.
Keep in mind some of the people are using Ad-Block, so if ad block makes you uncomfortable while browsing your blog. Try to search for alternate for placement of ads on your blog. Generally, ads placed within body of the posts are bid high, because those ads are more interactive to the users while reading content in your blog.  So try to use ads in the blog post this will improve Google Adsense earnings.
According to google AdSense policies, on each page AdSense publishers may place up to three content units (text & display), three link units, up to two search boxes. Publishers may not place more than one large unit in per page. Placing the maximum number of ad units on a page might result in looking web page cluttered. Read google optimization guidelines to know where to place your ads. This tips definitely helps to increase AdSense earning.