Latest updates
Hi friends, today I am coming up with new applications info which helps you to send messages with the scheduling time. it's pretty cool...
Popular Post
On 10th may,2016 WhatsApp on its official blog announced, new Whatsapp desktop app. It runs natively on your desktop. This new desktop app is...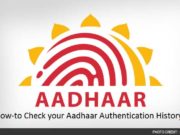 The "Aadhaar Authentication History" tool enables users to check Aadhaar Authentication online and avail various information including transaction ID, error code, a method of...
A beginner needs to know what blogging is all about. Here are short explanations of some frequently used terms about blogging. Blog: You can explain the...
Awesome tips to get Traffic to a new website: Remember lacks of websites are created day by day. It's too hard to get traffic to...
Learn how to add Facebook like box to your blogger blog using a simple technique. Use Facebook page plugin codes in the developer's page...
When we have a free time, it's always fun to have chat with friends, cousins and Family members in WhatsApp. For that, we can...
WhatsApp is the most used chat messaging app and it has almost replaced default SMS app. It handles 600 million photos and 64 billion...
It's really quite difficult to get unique WhatsApp group names. When we have free time, it's always fun to have chat with friends, cousins...
A hacker and product security engineer Anand Prakash, from Bangalore, found a bug on Uber transportation Network Company's application. With this simple trick, he is...
Hi, Friends! I brought interesting stuff for our readers. These are the funniest, Crazy and weird websites on the internet have to see at...
Learn the way to delete WhatsApp messages before it gets delivered. WhatsApp is now the biggest messaging app in the world with billions of...
In some cases, we may observe that Google chrome not responding. If you facing this problem then here is the solution just restart the...
Are you trying to build an online presence? Building an audience is critical to success in many endeavors, especially marketing. A great way to...