Creating your own website has many advantages. You are solely responsible for the content and appearance of your site, and this means you can control every aspect of the way people view your business. When you create your own website, you also learn many valuable skills that will help you perform basic maintenance and upkeep on the site. Knowing these skills ends up saving you money and time.
Steps to create own professional website:
Step 1: Conceptualize Your Project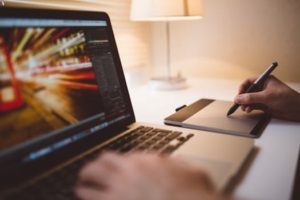 The first step to creating a successful webpage is to come up with a clear idea of what you want your site to represent. How do you want your business or service to appear to others when they see your page? What do you hope this webpage will do for you? Having clear goals means that you can make sure you new site meets all the necessary criteria. In the end, you will be happier if it does.
Some common goals for a website include offering information about a business or service, giving potential clients a positive view of a company, and increasing sales traffic. Think about the specifics of what you would like your website to accomplish.
Step 2: Select a Domain
Selecting the domain for your website is very important. You want to make it easy for new and existing clients to find your site when they do a web search. It is also important to avoid potential trademark infringement issues. When you have selected a domain name, do a search to make sure it is not linked to anyone else's business as a slogan or trademark.
Next, register you domain on a reputable domain hosting site. Make sure you have rights to that domain name for the foreseeable future. You never know how long you will have this site, so extend the registration for as long as possible.
Step 3: Select a Host
Once you have selected and registered your domain name, you need to decide who will host your website. Hosting services can be basic or can include eCommerce features and the ability to handle high traffic volume. Assess your needs in order to determine the appropriate host for your site.
Step 4: Code Your Website
Next, you will need to do the actual creation of your website. Before beginning, think back to Step 1. What do you hope to get out of this website? Let these goals dictate your choices when designing the pages. Some of the things you'll need to consider include background, borders, layout, and choices for graphics.
Learning to code your website is actually easier than you might think, but it pays to invest in quality tutorials before beginning. The more you know about coding, the less time you will waste in undoing tasks that were performed incorrectly.
Step 5: Test Your Website
Many people choose to build a website on their own computer and test it there prior to deploying it on the Internet. To test your website, make sure all functionality is working properly, such as forms, message boards, and eCommerce solutions. Rigorous testing is important because it ensures that your website will provide the best possible view of your business to potential clients.
Step 6: Deploy and Promote Your Site
After you have made sure your new website meets your goals and functions properly, you are ready to deploy it. However, actually deploying your site is only part of introducing it to the world at large. It's also important to make sure you promote your site properly.
To give your website the attention it deserves, make sure you include your web address on all business cards and professional correspondence. Consider using tricks to optimize your website for search engines and make it more likely that it will attract additional business.