We are spending thousands of rupees on buying mobiles. Based on the need, different people can buy different mobiles. Sometimes they don't care for their need someone buys mobiles based on their economic status it may be low to High-end devices. Maximum there is no problem with High-end devices all the time they give best performances, but there is some problem with low end or middle-end devices. In this article, we explained some tips, which helps to make your phone faster.
Quite often the low and middle-end devices running slow due to very less RAM size and phone memory which cause irritation. Even for installing very fewer applications. Some people trying to buy new mobiles, someone can't due to their economic status. Here in this article, we are giving some tips to makes your android phone faster.
Tips to run phone faster:
Make sure your phone up to date:
 The first step we should take care of our mobile is, check weather our android mobile up to date or not. If any updates available, make it up to date. It will help to resolve any bugs(problems) and making the phone more interactive to the user from developing side. To get the best from your phone, it's a good idea to update your software regularly. The latest versions of software help your phone run more quickly and efficiently, bring new features, fix bugs and more.
 Updating your software is a free and simple process that doesn't take long depending on the method chosen and the speed of your connection. You won't be able to use your phone while the software is being updated and you need to be connected to Wi-Fi
Disable your phone home page animations:
Back ground animation of your phone makes slow a bit. We recommend you not to use heavy animations it will consume ram space. Try to use a beautiful static wallpaper instead of animated wallpaper.it also saves your battery charge.
Disable and uninstall the apps which are unused:
Uninstall the apps which not used which help to make your phone RAM space free. Some low end and middle range smart phones may have very less internal memory space. Then move your apps to the SD card. If you have more files like video's, music and documents etc. in your internal phone memory, try to move files to external SD card helps to run phone faster.
Clear cache apps data:
As you use applications, they start storing files for reference later. These files are stored in an app "cache." For instance: When you're using any app, it'll save images and other pieces of the stories you've read so that they don't have to be downloaded each and every single time the app needs them. This saves you time and data.
            But maybe you want to clear an app's cached data, either to regain some used space or to try to fix a misbehaving app. This is where you can do it. Just tap into the app, and then tap the "Clear cache" button. Suppose if you clear the cache of Facebook you have to re-login with your details and if you play any game, once you clear the data(cache) you have to play that game from starting.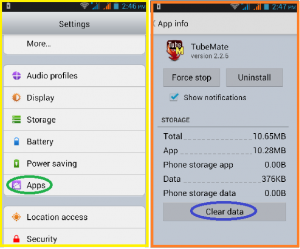 In some recent version of android like jelly bean 4.2 and up, there is an option given called cached data which helps to clear all apps data with one click.
Minimize auto synchronization accounts:
Synchronization of your phone with more google accounts causing occupation of more RAM space. Hence your phone working slow.it will run in the background for mail updates based on your setting for synchronization every 10 to 15 minutes. Make sure your phone not auto-sync with different social networking sites like Facebook, twitter etc.
Perform a factory reset:
A factory reset is a software restore of an electronic device to its original system state by erasing all of the information stored on the device in an attempt to restore the device's software to its original manufacturer settings. Doing so will effectively erase all of the data, settings, and applications that were previously on the device. This is often done to fix a software issue that the device is facing, but it could also be done to restore the device to its original settings.
      First, we have to know what is factory reset. It is a one step process to delete all user data in the phone memory and make phone working in new condition like a new phone. All the user data like apps, call logs, messages, pictures etc. data in the phone gets removed. Factory reset only deals with data and the cache partitions. it helps to make the phone faster.
Note: factory reset is not recommended in some devices as it can do more harm than good.
          If your phone not working properly and it takes more time to load the data. Sometimes phone cause crashing then a factory reset is only the way. Doing a factory reset has some advantages for a few purpose. One of the advantages is wanting to remove all Data from the device. This is handy if you plan to give your mobile to someone else and don't want to give them your contacts or any other information.
Note: if you want to do a factory reset. Make backup all your data in phone, sim as well as in the SD card.
Remove short cuts to apps:
In order to navigate the favorite app, we are creating app short cuts on the home screen. Which cause running the application in the background in all time. This may consume memory of the phone. always try to keep your home screen clean. Widgets are not a fancy item. They are there to solve a specific purpose. Thus use only what you require and reduce the number of home screen panels that contain icons and widgets.