Here today I am going to give brief recommendations and tips while booking a train ticket. Just follow the steps before booking you won't lose money and you will know which travel is preferable.
Tips for Train ticket booking:
1.how to book
2.What generally all do
3.What not do definitely at booking
4.Reservation predictions, trends
5.Tatkal booking
6.App booking
Most of us have faced a problem of booking a seat in railways. we may go by online or offline .some times if the ticket is not confirmed we don't get full fare .we have to bear a charge of min 60/-rs for 2nd class and sleeper ticket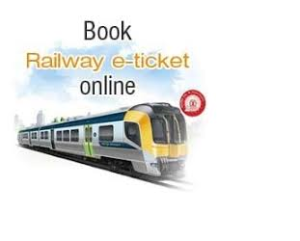 In this article, we will let know confirmation chances of a seat without booking the ticket and even without spending a penny also.
Let us see how to book: for online booking goes to irctc.co.in, log in with your details and enter the details of traveling with a date then enter.
You will see a list of trains available with the type of coaches available that is SL,2S,3A,2A,1A.click on that you will let know availability or waiting list.
The steps of booking are explained below:
Step1: Login with IRCTC id and password make details entered correctly
Step2: enter the station where you want to travel from and where you travel up to and select a date of traveling and click submit.
Step3: Then you will see a list of trains along with the time of arrival and departure and classes available in each train as 1A,2A,3A, SL,2S..as like and click on SL and type of class such as general, ladies, tatkal, premium tatkal, physically handicapped classes. As shown in the figure.
Enter the book now and fill the details of traveling person such as name, sex, age, etc.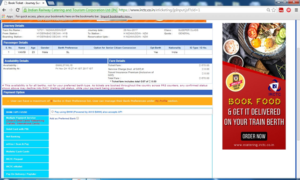 please enter the captcha carefully and click next, you will be redirected to the payment page.
Pay using various modes such as Debit card with the pin, wallets(Paytm, Mobikwik, Jio wallet, oxygen wallet, Freecharge etc), net banking, pay later, BHIM/UPI.ETC.then you will get a ticket.
How to know the ticket is available or not without booking :
Worried about waiting list at online even before 20days or even before 1 day. don t worry, don't book at that time, check chances of confirmation in the following sites without paying a single penny.let us go to it.
Websites for this purpose are given on mainly usage and effective results while I searched for my ticket, though some other websites offer these services, I found these are best enough for everyone.those are TRAINMAN, ETRAIN.
ETRAIN: this is one of the best websites for all train related inquiries even you can know how many tatkal tickets available for a particular train and particular seats effectively, you will feel happy and ease while booking if you use this once.
Just google it as etrain.info, then check the results of the first link, then you will enter one of the best inquiries of trains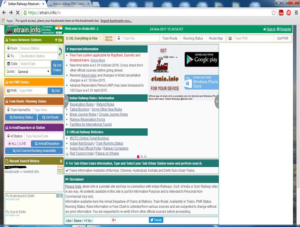 In Above First Page We Can See From And To Station, Date, Quota. In Quota There Are Several Types Like General, Lower berth, Phc, Yuva, Parliamentary, Foreigner  Etc. Here It Will Ease Your Operations
Lower Berth seats:
Suppose If Your Family Member Is Aged Above 45years Either Lady Or Gent. Then He Will Definitely Get Seat in Lower Berth Category. IRCTC Will Reserve Some Seats for This People.You Can Only Know about This Matter Here or from Any Railway Officials.
If Any People Of That Age Will Easily Travel Even 2days (Booking) Before Train Schedule. See The Following Picture For A Rough Idea.
Like this, you will see the chart of availability. In lower berth quota, ladies quota etc.tickets are more reserved for sleeper quota's, before you book check the availability and make sure to book in the quota will definitely give you a seat in worlds 4th railway network of trains.
Depending on that you can choose different quotas, sample images are given below
P HANDICAPPED QUOTA:

TATKAL QUOTA:
EVEN YOU can know how many tatkal tickets available and its cost. See this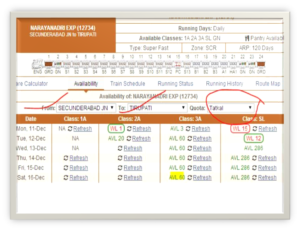 more from e train: sometimes we book a ticket without knowing confirmation, don't worry we can check our chances of confirmation from etrain, and Train Man websites. Here is how to know the confirmation chances of your PNR.
PNR CHECKING:
After entering PNR you will know the result and status of confirmation, see below

In above it is showing green color and status is confirmed means it will confirm, it's my own ticket which got confirmed and happy to share with you all.
There are colors which indicate the chances of confirmation,
Red-confirmation is very low

yellow-chances are medium may or may not confirm chance are 50-50

Green-*chances are highest for confirmation *>85%
Depending upon this we can know our chances of confirmation and book another mode of travel in prepone without waiting up to that last day.
The above information can be known from website and app also. Other services by Etrain are.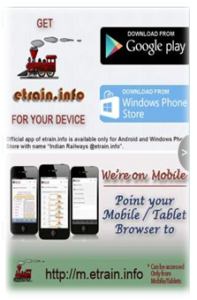 Any doubts even after reading this, comment your query, you will receive an answer shortly.
Let's go to—TRAINMAN
IT is also the same website like etrain, I am adding  just pictures of usage for a brief idea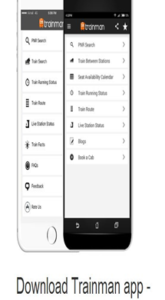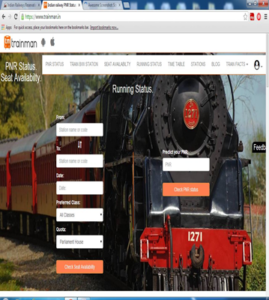 In train man—–a PNR status, seat availability, running status.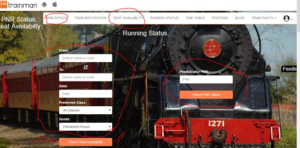 Good thing in train man is it shows PNR predictions with trends that indicates previous bookings and their confirmations with seat given as RAC, or sleeper, or final status of the ticket. You cannot get the trends in etrain. Except that remaining all are same on both the websites.
Conclusion:
This is just about giving awareness to people, and it does not give 100%guarantee of the ticket, it will guide you in booking and after booking, please share your views on this article in the comment section.